The CAPG's Blog
Thursday March 19, 2020
Illustrious Patriach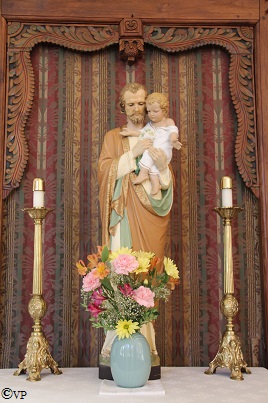 O illustrious Patriarch St. Joseph, who carried the Infant Jesus in thy blessed arms and who, during the space of thirty years, lived in the most intimate familiarity with Him, take under thy powerful protection those whom He has clothed with His authority and honored with the dignity of His priesthood, whom He has charged to continue His mission, to preach His Gospel, and to dispense everywhere His graces and blessings.

Sustain them in their fatigues and labors; console them in their pains; fortify them in their combats; but above all, keep far from them all the evils of sin.

Obtain for them the humility of St. John the Baptist, the faith of St. Peter, the zeal and charity of St. Paul, the purity of St. John and the spirit of prayer and recollection of which thou, my dear Saint, art the model, so that, after having been on earth, the faithful dispensers of the Mysteries of thy foster Son, Our Lord Jesus Christ, they may in Heaven receive the recompense promised to pastors according to the Heart of God. Amen.

Posted at 10:43AM Mar 19, 2020 by VP in Prayers | Comments [0]
Wednesday March 04, 2020
Wednesday March 04, Ember days
The observance of Ember days is a very old tradition, going back to the Apostolic time and taking after the Roman Pagan customs that held festivals on each seasons of the year. In 494, Pope Gelasius I used the Ember Saturdays to confer ordination to the priesthood.
From their origins, Ember days had a two fold purpose: to pray for the laborers and for the fruits of the harvest. During these three days, Catholics were thanking Our Blessed Lord "for the gifts of nature" asking Him "to teach men to make use of them in moderation, assist the needy" but most of all to pray for more good priests.
Ember Days: Catholic Encyclopedia

In 1969, Pope Paul VI excluded the embers day from being mandatory days of fast and abstinence and left their celebrations to the discretion of the local bishops. Even though the US Bishops' Conference has decided not to celebrate them, we may still choose to do so as a personal devotion since its observance at home or small communities is not discouraged:
"17. Vigils and Ember Days, as most now know, no longer oblige to fast and abstinence. However, the liturgical renewal and the deeper appreciation of the joy of the holy days of the Christian year will, we hope, result in a renewed appreciation as to why our forefathers spoke of "a fast before a feast." We impose no fast before any feast-day, but we suggest that the devout will find greater Christian joy in the feasts of the liturgical calendar if they freely bind themselves, for their own motives and in their own spirit of piety, to prepare for each Church festival by a day of particular self- denial, penitential prayer and fasting."
Vigils and Ember Days (USCCB) 1966


Let us, therefore, revive Embers days!
Let us again pray, fast, and abstain for more faithful priests!
Prayers:
For Ember Days
Listen, Almighty God, we beseech Thee, to the prayers which Thy universal Church offers to Thee at this time; beseeching Thy blessing on those who are about to be admitted to Thy Holy Service of the Altar. Give Thy grace to all who are called to any office and administration amongst Thy clergy; and so replenish them with the truth of Thy doctrine, and indue them with innocence of life, that they may faithfully serve thee to the glory of Thy great name and the benefit of Thy Holy Church. Amen
O God, of whose mercies there is no number, and of whose goodness the treasure is infinite, we humbly thank Thee for the gifts thou hast bestowed upon us. Continue Thy mercy to us, and give us also so much of thy temporal blessings as Thou knowest to be for our good.
Grant that the fruits of the earth may, by Thy holy favor, increase and multiply: defend them from all drought, frosts or tempests, or whatever else may be hurtful to them. It is from Thy hand only that we look for succor, and to Thee we have recourse in all our necessities. Amen.
Posted at 03:00AM Mar 04, 2020 by VP in Prayers | Comments [0]
Wednesday February 26, 2020
Lenten Reading plan: Daily readings from St. John Vianney, Patron of Parish Priests
There are forty days of Lent – but there are more than forty days listed below! This is because Sundays and the days of the Sacred Triduum are not counted as part of the forty days of Lent. But in our spiritual discipline, it is good to have a certain consistency every day. Therefore, I have included enough daily readings for all of the days from Ash Wednesday through Easter Sunday.
The texts provided below are taken from the catecheses, exhortations, and sermon excerpts of the Holy Curé of Ars, Saint John Vianney. During the Year for Priests in 2010, Pope Benedict XVI has held up this important saint as a model for all parish priests. His writings contain a great depth of spirituality and wisdom.
These daily readings, which vary in length, will be a spiritual nourishment for all who read them. And as you read them, remember to pray for your priests: who baptized you, confirmed you, married you, anointed you, heard your confessions, and celebrated Mass for you. Your priest prays for you each day in his Mass and Breviary; do not forget to pray for him!

Source: Fr. Bryan W. Jerabek (Huntsville, Alabama, 2010)

Posted at 12:00AM Feb 26, 2020 by VP in Prayers | Comments [0]
Tuesday February 18, 2020
Feb. 18: St. Bernadette (Father Price's Daily Prayer)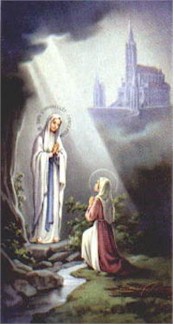 O Mary Immaculate, Patron of America, who, through little Bernadette,
bade us pray and work for the conversion of the countless souls now perishing,
I offer all the prayers, actions, and suffering of this day and every day of my life for their conversion, and I beg of thee to bless my resolution to do what I can throughout my life to bring about their salvation.

Saint Bernadette, pray for Father Price


Imprimatur: Most Rev. Vincent S. Waters, D.D. May 2, 1949
Source: Cure d'Ars Prayer Group

Posted at 10:23AM Feb 18, 2020 by VP in Prayers | Comments [0]
Tuesday February 11, 2020
Prayer to Our Lady of Lourdes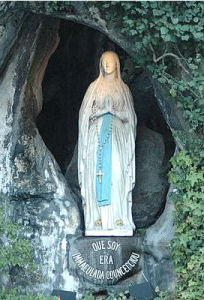 Be thou blessed, O most pure Virgin, who didst deign to appear in the grotto of Lourdes as many as eighteen times, resplendent with light, sweetness, and beauty, and to say to the humble and simple child who contemplated thee in ecstasy, " I am the Immaculate Conception!" be thou blessed for the extraordinary favors which thou dost unceasingly scatter around this place.
By thy maternal heart, O Mary, and by the glory which the holy Church has rendered thee, we conjure thee to pray for the Sovereign Pontiff and for Father [ name ] and to realize the hopes of peace which the proclamation of the dogma of the Immaculate Conception excited in the breasts of the faithful. Amen.
Source: St. Joseph's Manual ( Rev. James Fitton, 1877)
Posted at 12:00AM Feb 11, 2020 by VP in Prayers | Comments [0]
Friday February 07, 2020
First Friday: Prayer to the Sacred Heart for Priests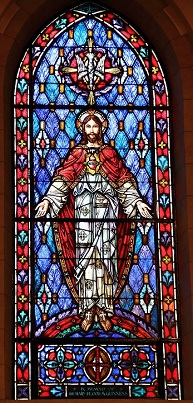 Sacred Heart Stained Glass, Raleigh NC
Remember, O most loving Heart of Jesus, that they for whom I pray are those for whom You prayed so earnestly the night before Your death. These are they to whom You look to continue with You in Your sorrows when others forsake You, who share Your griefs and have inherited your persecutions, according to Your word: That the servant is not greater than his Lord.

Remember, O Heart of Jesus, that they are the objects of the world's hatred and Satan's deadliest snares. Keep them then, 0 Jesus, in the safe citadel of Your Sacred Heart and there let them be sanctified in truth.

May they be one with you and one among themselves, and grant that multitudes may be brought through their word to believe in You and love You. Amen.
Source: CAPG

Posted at 08:56AM Feb 07, 2020 by VP in Prayers | Comments [0]
Saturday February 01, 2020
Priest's Saturday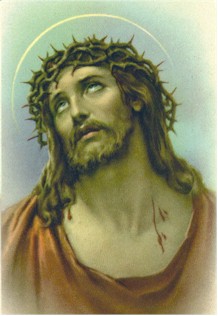 1. The Priest's Saturday brings about an intimate union between priests and people. Surely the people will welcome with great joy the opportunity thus given to co-operate, by prayer and sacrifice, with the priest in all the work that he does for the parish. They will thus merit to have, and will efficaciously make, zealous and holy priests. Experience shows that also the children easily understand the Priest's Saturday and enter with joy upon this apostolate.

2. Especially the sick, the convalescent, and the body disabled. Who are often so deeply pious and abounding in virtue, will find Priest's Saturday a great and apostolic field of holy endeavor and their lonely days will take on a new and profound significance as they realize that a marvelous life-work lies open before them. Such unselfish and holy effort in behalf of priests, such prayers and sacrifices, will yield most glorious fruits and the world will soon feel the blessed influence of the Priest's Saturday.

3. New vocations to the priesthood will be aroused and fostered, and surely in many a woman's soul, as she prays and sacrifices for the sanctification of priests, the hidden wish will be felt: " Oh, if I myself might become the mother of a priest!"
4. God grant that all take part in this great "apostolate to the apostles"! Surely it is a thing most pleasing to God and most fruitful in blessings here upon earth even as it redounds to the salvation of countless souls. Spread this idea wherever and whenever you can. Be a promoter. Get others to spread and promote it. Remember that concern for the sanctification of priests is most dear to the Sacred Heart of the Divine Savior and to the Sweet Heart of His Blessed Mother. It is their concerns. (Tr. W. H. , S.D.S.)

imprimatur: +Paulus Petrus, Epps. Sinus Viridis 22 Jan. 1935. The Salvatorian Fathers.




Divine Savior, Jesus Christ, Who hast entrusted the whole work of Thy redemption, the welfare and salvation of the world, to priests as Thy representatives, through the hands of Thy most holy Mother and for the sanctification of Thy priests and candidates for the priesthood I offer Thee this present day wholly and entirely, with all its prayers, works, sacrifices, joys, and sorrows.

Give truly holy priests who, inflamed with the fire of Thy divine love, seek nothing but Thy greater glory and the salvation of our souls.

And thou, Mary, good Mother of priests, protect all priests in the dangers of their holy vocation and, with the loving hand of a Mother, also lead back to the Good Shepherd those poor priests who have become unfaithful to their exalted vocation and have gone astray.

In addition to the above make it a point also to recite frequently the following:

Divine Savior, Jesus Christ, Who Hast entrusted the weal and woes of Thy Holy Church to priests, with all the fervor of my heart I recommend to Thee the wants of my pastor and all priests. Enrich them more and more with true priestly sanctity. Give them generous, all embracing, apostolic hearts, full of love for Thee and for all Thy souls, so that they, being themselves sanctified in Thee, may sanctify us who are confided to their care, and may lead us safely to heaven. Bestow upon them in rich abundance all Thy priestly graces!
Let them ever give us a glowing example of love and fidelity towards Holy Mother Church, towards the Pope, and bishops, and grant that by word and example they may shine as models of every virtue.
Most loving Jesus, bless all their priestly labors and sacrifices! Bless all their prayers and words at the altar and in the confessional, in the pulpit, and in school, in confraternities, and at the bedside of the sick! Protect and preserve them in all dangers from within and from without.

Divine Savior, give to Thy Church priests who abound in true holiness! Call many good boys and young men to the priestly and religious state! Aid and sanctify all those who are to become Thy priests! And to the souls of departed priests grant everlasting rest.
But to me give a true spirit of faith and humble obedience, in order that in my pastor I may ever behold the representative of God and willingly follow all his teachings. Amen
Source: Priest's Saturday

Posted at 12:00AM Feb 01, 2020 by VP in Prayers | Comments [0]
Saturday January 18, 2020
Join the Church Unity Octave, January 18-25
Today is the former feast of the Chair of St. Peter at Rome, which was combined with the feast of his Chair at Antioch on February 22nd.
Posted at 11:42AM Jan 18, 2020 by VP in Prayers | Comments [0]
Sunday January 12, 2020
The Holy Family
Posted at 12:00AM Jan 12, 2020 by VP in Prayers | Comments [0]
Tuesday January 07, 2020
Prayer for heretics, perverts, etc.
Look down also with compassion on those deluded souls, who under the name of Christians, have gone astray from the One True Fold, of the One Head and Shepherd, Jesus Christ.
O bring them back to Thy Church and to Thee! Dispel their darkness; let them see how passion, and the wiles of the enemy, have blinded and misled them; remove their prejudices; take from them all pride, obstinacy, human respect, and self-conceit. Give them humility, a love of truth, and a strong grace to embrace it, in spite of all the opposition of the world, the flesh, and the Devil.
Source: The Fervent Adorer, or the Practice of Perpetual Adoration of the Sacred Heart of Jesus, as Recommended by (Sainte) Marguerite Marie Alacoque. 1867

Posted at 01:01AM Jan 07, 2020 by VP in Prayers | Comments [0]
Friday December 20, 2019
Friday in Ember Week of Advent: Christ was crucified (Fast and abstinence)
Introit
: (
Ps.118. 151,152)
Thou art near, O Lord, and all Thy Ways are truth: I have known from the beginning concerning Thy testimonies, and Thou art for ever. Blessed are the undefiled in the way: who walk in the law of the Lord. Glory be to the Father... Thou art near...
Collect
: Stir up Thy might, we beseech Thee, O Lord, and come: that they who trust in Thy loving kindness may be the more speedily freed from all adversity: Who livest....
Lesson
: From the Prophet
Isaias, 11. 1-5
Gradual
(
Ps: 84. 8,2)
): Show us, O Lord, Thy mercy, and grant us Thy salvation. Lord, Thou hast blessed Thy land: Thou hast turned away the captivity of Jacob.
Holy Gospel according to St. Luke
, 1.37-47
Offertory
(
Ps. 84. 7,8)
): Thou wilt turn, O God, and bring us to life, and Thy people shall rejoice in Thee: show us, O Lord, Thy mercy, and grant us Thy salvation.
Secret
: O Lord, receive, we beseech Thee, our gifts and prayers: and by these heavenly Mysteries both cleanse us and mercifully hear us. Through our Lord...
Communion
(Zacharias 14. 5,6 )
: Behold the Lord shall come, and all His Saints with Him: and there shall be in that day a great light.
Postcommunion
: May the holy receiving of Thy Sacrament, O Lord, revive us, and cleansing us from our former life, enable us to pass to the fellowship of Thy saving Mystery. Through our Lord
Posted at 12:00AM Dec 20, 2019 by VP in Prayers | Comments [0]
Thursday December 19, 2019
Gratitude
Praise and glory be to Thee, O most sweet Jesus, for the infinite love wherewith Thou dost vouchsafe to descend from heaven in the holy Mass to change bread and wine into Thy sacred flesh and blood, to conceal Thyself under these contemptible appearances and by means of this boundless humility to appease the just wrath of God and avert the chastisements due to us.
With our whole hearts we thank Thee for this inestimable benefit. With all the powers of our soul we praise and magnify Thee, and we beseech the hosts of heaven to unite their voices to ours and compensate for what is defective in our giving of thanks. We humble pray Thee to enlighten our minds, that we may clearly comprehend the saving mysteries which Thou dost daily enact upon our altars, that we may venerate them aright, and profit by them for our eternal salvation.
Amen.
Source:Cochem's Explanation of the Holy Sacrifice of the Mass
Posted at 12:00AM Dec 19, 2019 by VP in Prayers | Comments [0]
Wednesday December 18, 2019
An Embertide Prayer
An Embertide Prayer
Almighty God, Who by Thy people has caused Thy holy religion to be acknowledged and spread, fill us all, whatever our calling, with such glowing love for Thee that boldly and untiringly we may advance Thy truth among men. Increase the laborers in Thy vineyard: give to all Thy ministers, bishops, other clergy, and their flocks, courage, patience and charity. Support and comfort us under all suffering and opposition, and at last, having turned many to righteousness, receive us safe from all defilement unto Thyself: through Jesus Christ, Our Savior. Amen
Source: St. Andrew's Cross 1922
Posted at 12:00AM Dec 18, 2019 by VP in Prayers | Comments [0]
Wednesday in Ember Week of Advent: the day Christ was betrayed (Fast and half-abstinence)
"The Observance of ember-days is of great antiquity in the Church. Their connection with the ordination of the ministers of religion renders them particularly worthy the regard of the faithful. We cannot be too deeply impressed with the blessing granted a people, whose priests are according to God's own heart. To obtain such, no humiliation should be deemed too great; no supplication should be neglected.
Whilst therefore we thank God for the fruits of the earth, and humble ourselves for the sins we have committed, we should beg God to supply his Church with worthy pastors." ( St. Vincent's Manual, 1854.)
Let us, therefore, revive Embers days!
Let us again pray, fast, and abstain for more faithful priests!
Introit: (Isaias 45.8) Drop down dew, ye heavens, from above, and let the clouds rain down the Just: let the earth open and bud forth a Savior. (Psalm 18.2): The heavens show forth the glory of God: and the firmament declareth the work of His hands. Glory be to the Father...

Collect: Grant, we beseech Thee, almighty God, that the coming solemnity of our redemption may both confer upon us assistance in this present life and bestow the rewards of everlasting blessedness. Through our Lord...
Lesson: From the Prophet Isaias, 2. 2-5
Gradual (Psalms: 23, 7, 3, 4): Lift up your gates, O ye princes: and be ye lifted up, O eternal gates: and the King of glory shall enter in. Who shall ascend into the mountain of the Lord? or who shall stand in His holy place? The innocent in hands and clean of heart.
Collect: Hasten, we beseech Thee, O Lord, tarry not: and grant us the help who trust in Thy loving kindness may be relieved by the consolations of Thy coming: Who livest and reignest....
Lesson: From the Prophet Isaias 7. 10-15
Gradual (Psalms: 144. 18,21): The Lord is nigh unto all them that call upon Him, to all that call upon Him in truth. My mouth shall speak the praise of the Lord: and let all flesh bless His holy Name.
Offertory (Isaiah 35.4): Take courage, and now fear not: for behold our God will bring judgment: He Himself will come and will save us.
Secret: May our fasts, we beseech Thee, O Lord, be acceptable unto Thee, and by expiating our sins, make us worthy of Thy grace, and bring us to Thine everlasting promises. Through our Lord...
Communion (Isaiah 7.14): Behold a Virgin shall conceive and bear a Son: and His Name shall be called Emmanuel.
Postcommunion: O Lord, we humbly beseech Thee, that being filled with the Gift of Thy Salvation, we may be effectually renewed by what we taste and enjoy. Through our Lord...

Source: CAPG

Posted at 12:00AM Dec 18, 2019 by VP in Prayers | Comments [0]
Monday December 09, 2019
Prayer of the Sick for Vocations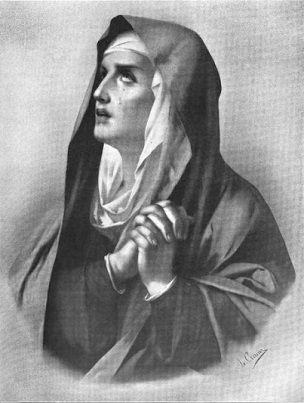 O God, Who through the sufferings and death of Thine Only Begotten Son, didst redeem the race of men, grant, we beseech Thee, that through the sufferings which I now humbly and patiently bear out of love for Thee and in union with Jesus Christ, Thy Son, Thou mayest be pleased to call to the sacred priesthood and the religious life generous youths who will dedicate themselves to the sublime vocation of bringing to souls the saving merits of the Passion and Death of the same Jesus Christ, Thy Son, Who livest and reignest forever and ever. Amen.
Source: CAPG
Posted at 12:00AM Dec 09, 2019 by VP in Prayers | Comments [0]