Father Thomas Price, MM
The diocesan phase for the Cause for Beatification and Canonization of Father Price was opened on March 9, 2012. Please join us in prayer for its success.

Heavenly Father, You so inspired Father Thomas Frederick Price with love for You and zeal for the Gospel that he dedicated his life to serve You and Your Church, first in North Carolina, his home state, and then in the foreign missions. Grant that by his example we may grow in holiness and into a deeper union with Our Lord Jesus Christ. Help us to be authentic witnesses of the Gospel and proclaim the Holy Name of Jesus throughout the Diocese of Raleigh and to all the people and in all the places we are sent to love and serve.
If it be according to Your Will, glorify Your servant, Father Thomas Frederick Price, by granting the favor I (we) now request through his prayerful intercession (mention your request here).
I (we) make this prayer confidently through Jesus Christ, Our Lord. Amen.

Imprimatur: Most Rev. Michael F. Burbidge, Bishop of Raleigh June 15, 2012
Links
Process of Canonization
Cause for Sainthood for Maryknoll cofounder Father Thomas F. Price advances to Rome (September 1, 2019)
Advancing a cause: A road to potential sainthood (September 1, 2018)
Cause for the Beatification and Canonization of Father Thomas Price (Raleigh Diocese, NC - February 29, 2012)
Father Price's life and works
Father Price of Maryknoll (online book)
The Tarheel Apostle (video)
Biography (Maryknoll)
The Lily of Mary, a short life of Bernadette of Lourdes (Fr. Price editor, 1918)
Biography
Father Thomas Frederick Price, Co-Founder of the Catholic Foreign Mission Society of America, was born on August 19, 1860, in Wilmington, North Carolina. He was the eighth child of Alfred and Clarissa Bond Price who were converts to the Catholic faith.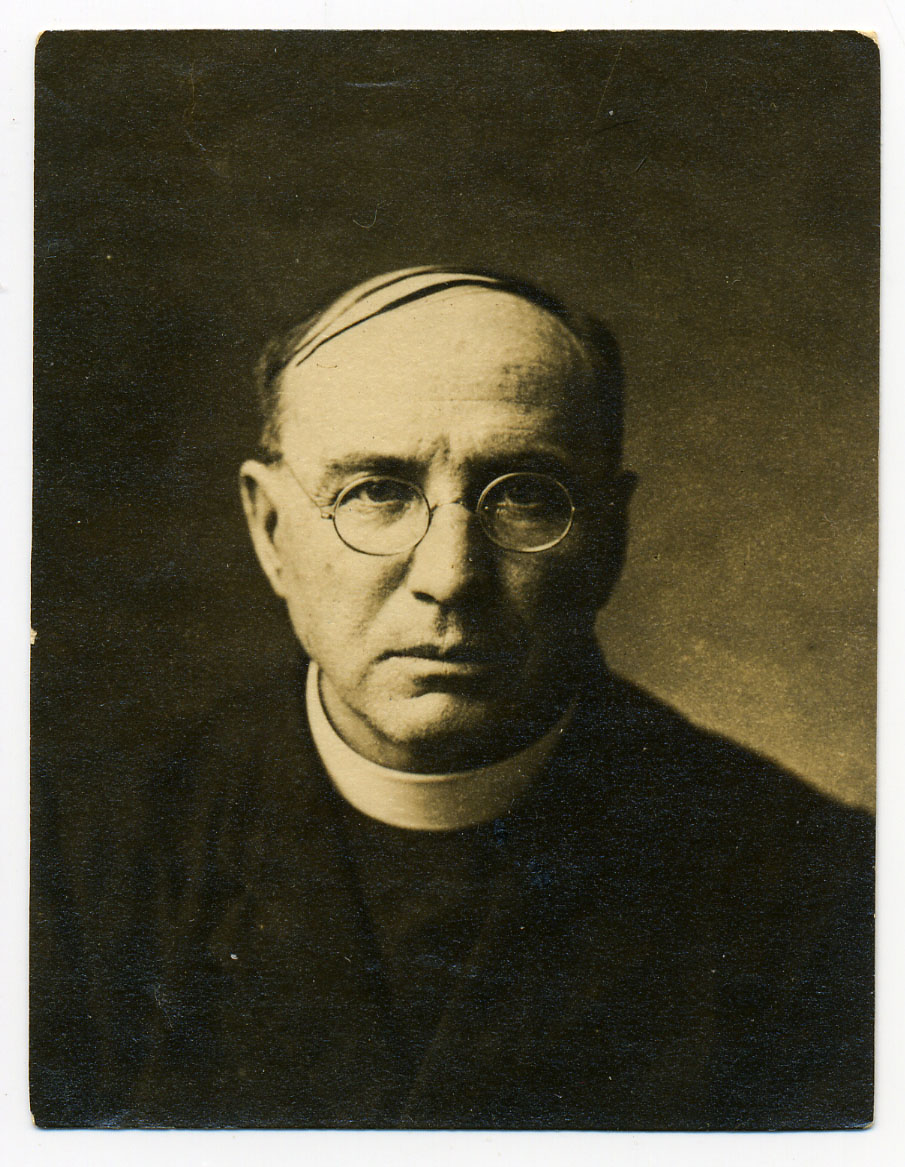 As a youth, Father Price was in close contact with the priests of his parish (St. Thomas, Wilmington, North Carolina). Among them was Bishop James Gibbons, newly appointed first Vicar Apostolic of North Carolina, who established his headquarters at St.Thomas Church. "Fred" Price often served Mass for Bishop Gibbons and accompanied him on special trips throughout the Vicariate.
Encouraged by the example of the priests at St. Thomas, young Fred entered St. Charles Seminary at Catonsville, Maryland, in August, 1876. On route to the seminary by sea, he escaped death in the shipwreck of the Rebecca Clyde.
Fr. Price attributed his survival to the intercession of the Blessed Virgin Mary. A particular devotion to the Blessed Mother and to St. Bernadette of Lourdes distinguished Fr. Price's spirituality throughout his life. His spirituality is detailed in a lengthy diary he kept.
Fr. Price attended St. Charles' Seminary from January 1877, until his commencement on June 28, 1881. On September 1881, he entered St. Mary's Seminary, Baltimore. He was ordained to the priesthood on June 20, 1886. Fr. Price was the first North Carolinian to be ordained to the priesthood, and he was assigned to missionary work in the eastern section of his native state.

A mainstay of Fr. Price's evangelization work was the magazine Truth, which he began in April 1897. Another project was the establishment of Nazareth Orphanage in 1898. His plan was to first help the poor and thereby win the favor of the general population who would then be more inclined to listen to the message of the missionary.

In 1902 Fr. Price opened a missionary training house at Nazareth called Regina Apostolorum, it was a preparatory seminary for the education and formation of missionaries for the home missions. From 1902 to 1909, he directed the Regina Apostolorum and acted as its primary teacher and spiritual director.

As time went on, Fr. Price became increasingly convinced of the need of a seminary for the training of young American men for the foreign missions. At the same time, Rev. James Anthony Walsh, of Boston, was developing the same idea in the pages of The Field Afar. At the Eucharistic Congress in Montreal in 1910, the two priests met and began to plan the establishment of a seminary for foreign missionaries. With the approval of the American hierarchy, the two priests traveled to Rome in June 1911, to receive final approval from Pope Pius X for their project. Shortly thereafter a site near Ossining, New York, was chosen for what was to be called the Catholic Foreign Mission Society of America (popularly known as Maryknoll).

In 1918, at the age of 58, Fr. Price led the first group of Maryknoll Missionaries to South China. Only one year later he contracted appendicitis and died in Hong Kong. Fr. Price's body is interred in a crypt at Maryknoll headquarters in New York, next to the body of Maryknoll co-founder Bp. James A. Walsh. His tomb is adorned with the Latin motto "In Caritate Non Ficta" which may be translated as "In Love Unfeigned."

Father Mike Walsh, MM


---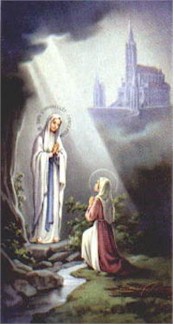 Father Price's Daily Prayer


O Mary Immaculate,
Patron of America, who, through little Bernadette,
bade us pray and work for the conversion of the countless souls now perishing,
I offer all the prayers, actions, and suffering of this day and every day of my life for their
conversion, and I beg of thee to bless my resolution to do what I can throughout my life to bring about their salvation.

Saint Bernadette, pray for Father Price

Imprimatur
Most Rev. Vincent S. Waters, D.D. May 2, 1949



---
Saint Bernadette in Nevers, France
The resting place of Father Price's heart can be seen on the left.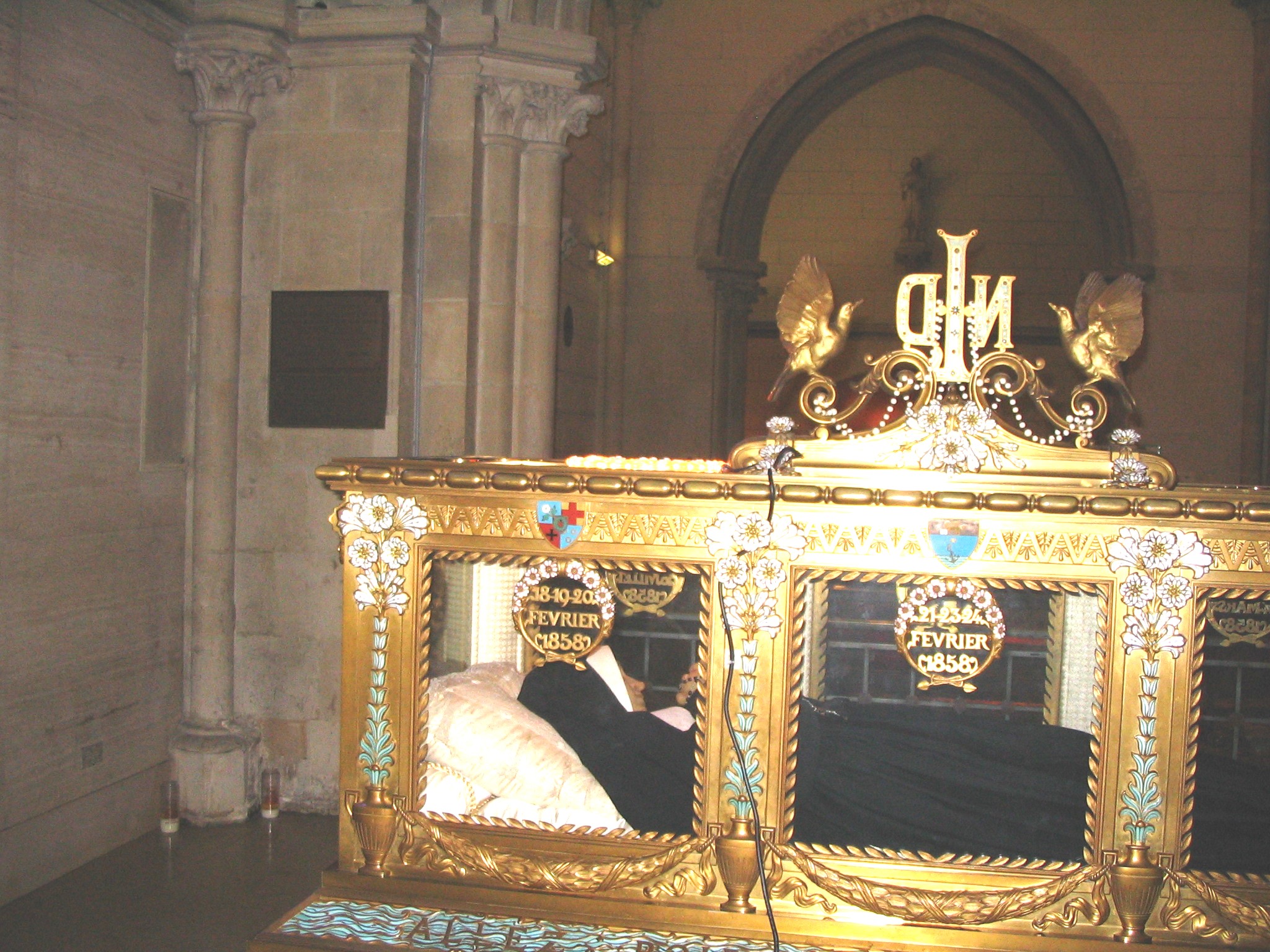 © Sisters of Nevers, France. Used with permission.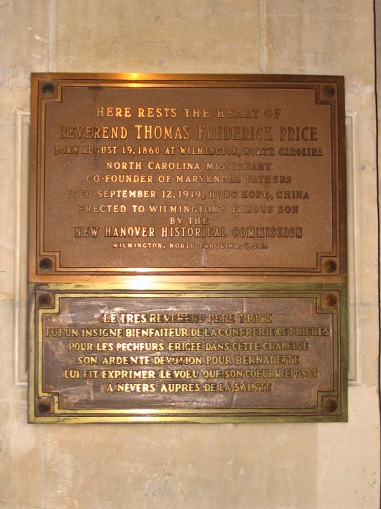 © Sisters of Nevers, France. Used with permission.
It reads:
Here rests the heart of Reverend Father Thomas Frederick Price
born August 19, 1860 at Wilmington, North Carolina.
North Carolina Missionary
Co-founder of Maryknoll Fathers
Died September 12, 1919, Hong Kong, China
Erected to Wilmington's famous son by the
New Hanover Historical Commission
Wilmington, North Carolina U.S.A.

Then translated from French:
The Very Reverend Father Price
was a distinguished benefactor of the Confraternity of Prayers
for Sinners which was established in this chapel.
Because of his ardent devotion to Bernadette,
he expressed the wish to have his heart buried
at Nevers close to the saint.