On the Catholic Priesthood
Tuesday May 14, 2019
Refusing to Share in the Priesthood of Christ
What would happen to a priest already sharing in the priesthood of Christ by reason of his ordination, if he refused to share in Christ's condition of victim? He would certainly be falling away from the priestly ideal: his life would become disordered, disturbed, and confused. He would remain a minister of Christ but without a sincere love for his affectionate Master. No longer a man of God but a man of the world, a man whose life has become vain, superficial, barren. This deplorable state of sterility reveals in an even better light the fruitfulness of a genuine apostolate, just as it is easier to appreciate the value of justice when we see the suffering resulting from injustice. Every priest should ask for the grace to be a victim in the way God wants him to be, to suffer patiently whatever God has willed for him from all eternity, so that he takes up his cross each day not simply as a faithful follower of Christ but as a priest standing in the place of Christ himself. He must undergo a mystical death before his physical death.


Source: The Priest in Union with Christ, Father Reginal Garrigou-Lagrange, O.P.

Posted at 01:29PM May 14, 2019 by VP in Quotes | Comments [0]
Monday May 13, 2019
Commemoration of a Faithful Priest
Quantis micas boneribus
Good Priest, where art thou hid from human eyes
in calm Repose,
Haply to tread the marble-shining skies
after life's woes;
Where God's Own Presence hath His People blest,
Himself their happy Guerdon, and their rest.
Those Virtues, in whose steps thou here didst toil,
and strive to go,
Are not put off with this thy fleshly coil,
and left below;
They now are turned to rays of Light Divine,
and glorious Crowns, which on thy temples shine.
And they for whom thou toilest in second birth,
with many a sigh,
Are with thee, like thy children, fled from earth,
and through the sky
They share thy victory the blest Choirs among,
and lift with thee the new mysterious Song.
Thou here below, dim-veiled from earthly eyes
in shadows dread,
Didst offer up th'Unbloody Sacrifice,
on Christ to feed;
He now Himself, with unveiled Deity,
of Spirits Immortal the Repast shall be.
And as a daily Sacrifice may we
Be lifted up,
Bearing our daily Cross, and share with thee
Thy Master's Cup;
We press, like shipwrecked sailors on the wave,
To Shores where Christ doth stretch His Arms
to save.
To Him, Who governs His own Priestly Host,
Himself their Crown;
To Him with Father and with Holy Ghost,
be all renown:
All praise to Him as hath been heretofore,
All praise to Him both now and evermore.
Source: Lyra Eucharistica : hymns and verses on the Holy Communion, ancient and modern ; with other poems by Shipley, Orby, 1832-1916
Posted at 12:24PM May 13, 2019 by VP in Poetry | Comments [0]
Sunday May 12, 2019
World Day of Prayer for Vocations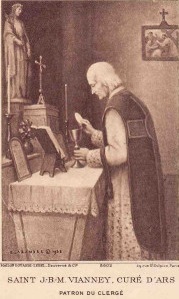 Litany to St. John Vianney for Vocations

Lord, have mercy on us.
Christ, have mercy on us.
Lord, have mercy on us.
Christ, hear us.
Christ, graciously hear us.

God the Father of Heaven, have mercy on us.
God the Son, Redeemer of the world, have mercy on us.
God the Holy Ghost, have mercy on us.
Holy Trinity, one God, have mercy on us.
Holy Mary, pray for us.
Saint John Vianney, pray for us.

Saint John Vianney, endowed with grace from thine infancy, pray for us.
Saint John Vianney., model of filial piety, pray for us.
Saint John Vianney, devoted servant of the Immaculate Heart of Mary, pray for us.
Saint John Vianney, spotless lily of purity, pray for us.
Saint John Vianney., faithful imitator of the sufferings of Christ, pray for us.
Saint John Vianney, abyss of humility, pray for us.
Saint John Vianney, seraphim in prayer, pray for us.
Saint John Vianney, faithful adorer of the Most Blessed Sacrament, pray for us.
Saint John Vianney, ardent lover of holy poverty, pray for us.
Saint John Vianney, tender friend of the poor, pray for us.
Saint John Vianney, penetrated with the fear of God's judgment, pray for us.
Saint John Vianney, fortified by Divine visions, pray for us.
Saint John Vianney, who wast tormented by the evil spirit, pray for us.
Saint John Vianney, perfect model of sacerdotal virtue, pray for us.
Saint John Vianney, firm and prudent pastor, pray for us.
Saint John Vianney, inflamed by zeal, pray for us.
Saint John Vianney, faithful attendant on the sick, pray for us.
Saint John Vianney, indefatigable catechist, pray for us.
Saint John Vianney, who didst preach in words of fire, pray for us.
Saint John Vianney, wise director of souls, pray for us.
Saint John Vianney, specially gifted with the spirit of counsel, pray for us.
Saint John Vianney, enlightened by light from Heaven, pray for us.
Saint John Vianney, formidable to Satan, pray for us.
Saint John Vianney, compassionate with every misery, pray for us.
Saint John Vianney, providence of the orphans, pray for us.
Saint John Vianney, favored with the gift of miracles, pray for us.
Saint John Vianney, who didst reconcile so many sinners with God, pray for us.
Saint John Vianney, who didst confirm so many of the just in the way of virtue, pray for us.
Saint John Vianney, who didst taste the sweetness of death, pray for us.
Saint John Vianney, who dost now rejoice in the glory of Heaven, pray for us.
Saint John Vianney, helpful to all those who invoke thee, pray for us.
Saint John Vianney, patron of the clergy, pray for us.

Lamb of God, who takest away the sins of the world, Spare us, O Lord.
Lamb of God, who takest away the sins of the world, Hear us, O Lord.
Lamb of God, who takest away the sins of the world, Have mercy on us, O Lord.

Christ, hear us. Christ, graciously hear us.
V. Pray for us, Blessed John Marie,
R. That we may be made worthy of the promises of Christ.

Let us pray:
Almighty and merciful God, who didst make Saint John Vianney admirable in his pastoral zeal and in his constant love of penance, grant us the grace, we implore Thee, to win for Christ, by his example and intercession, the souls of our brethren, and to attain with them everlasting glory.

O, Saint John Vianney, incomparable laborer in the field confided to thee, obtain for the Church the realization of Jesus' desire. The harvest is abundant, but the laborers are few. Pray to the Master of the harvest to send faithful laborers into His vineyard. O, Saint John Vianney! Intercede for the clergy. May thy patronage, and thy prayer multiply the real vocations to the priesthood. May the Holy Ghost grant thee emulators; may He give us Saints! Through Christ, our Lord. Amen.
Source: Curé d'Ars Prayer Group

Posted at 12:00AM May 12, 2019 by VP in Prayers | Comments [0]
Wednesday May 08, 2019
Thoughts of the Curé of Ars
After God, the priest is all! . . .
 Leave a parish twenty years without a priest, and the people 
will adore beasts. 
Posted at 12:00AM May 08, 2019 by VP in Quotes | Comments [0]
Saturday May 04, 2019
Priests' First Saturday
Divine Savior, Jesus Christ, Who hast entrusted the whole work of Thy redemption, the welfare and salvation of the world, to priests as Thy representatives, through the hands of Thy most holy Mother and for the sanctification of Thy priests and candidates for the priesthood I offer Thee this present day wholly and entirely, with all its prayers, works, sacrifices, joys, and sorrows.

Give truly holy priests who, inflamed with the fire of Thy divine love, seek nothing but Thy greater glory and the salvation of our souls.

And thou, Mary, good Mother of priests, protect all priests in the dangers of their holy vocation and, with the loving hand of a Mother, also lead back to the Good Shepherd those poor priests who have become unfaithful to their exalted vocation and have gone astray.

In addition to the above make it a point also to recite frequently the following:

Divine Savior, Jesus Christ, Who Hast entrusted the weal and woes of Thy Holy Church to priests, with all the fervor of my heart I recommend to Thee the wants of my pastor and all priests. Enrich them more and more with true priestly sanctity. Give them generous, all embracing, apostolic hearts, full of love for Thee and for all Thy souls, so that they, being themselves sanctified in Thee, may sanctify us who are confided to their care, and may lead us safely to heaven. Bestow upon them in rich abundance all Thy priestly graces!

Let them ever give us a glowing example of love and fidelity towards Holy Mother Church, towards the Pope, and bishops, and grant that by word and example they may shine as models of every virtue.

Most loving Jesus, bless all their priestly labors and sacrifices! Bless all their prayers and words at the altar and in the confessional, in the pulpit, and in school, in confraternities, and at the bedside of the sick!
Protect and preserve them in all dangers from within and from without.

Divine Savior, give to Thy Church priests who abound in true holiness! Call many good boys and young men to the priestly and religious state! Aid and sanctify all those who are to become Thy priests! And to the souls of departed priests grant everlasting rest.

But to me give a true spirit of faith and humble obedience, in order that in my pastor I may ever behold the representative of God and willingly follow all his teachings. Amen
Source: Curé d'Ars Prayer Group

Posted at 11:25AM May 04, 2019 by VP in Prayers | Comments [0]
Thursday May 02, 2019
If the Church...
Truly, if the Church is the Spouse of Jesus Christ, the Popes, bishops and priests are her guardians. If the Church is an army ranged in battle, the Popes, the bishops and priests are her generals. if the Church is a vessel steering across the storms of persecutions, the Popes, the bishops, and priests are her pilots. If the Church is the Mystic Body of Christ, and if the faithful are its members, the Popes, the bishops, and priests are the principal members of this Body; by their eyes, Jesus Christ watches over His flock; by their feet, He carries to every nation the Gospel of peace; by their hearts, He diffuses everywhere the life of that divine charity without which all is dead. If the Church is the people of acquisition, bought at a great price, the Popes, the bishops, and priests are the leaders, the teachers, the princes of that chose generation. If the Church is that sacred edifice built up by the Divine Wisdom Itself for the children of God, the Popes, the bishops, and priests are the administrators of this palace; they are the columns of the Church upon which the whole world rests.
God the Father has created the world without the Popes, the bishops and priests, but it is only through them that he saves it. God the Son redeemed the world without the Popes, the bishops and priests, but it is only by them that He applies His Blood to the souls of men, and secures the fruits of His copious Redemption.
And you can hardly name a single blessing of the Holy Ghost, without beholding by the side of that blessing the priest as the instrument through which that Divine Spirit communicates His blessing.
Yes, if St. Bernard is right in saying that all comes to us through Mary, we are also right in saying that all comes to the people through the Popes, the bishops and the priest: yes, all happiness, every grace, every heavenly gift.
All the other gifts of God would avail us nothing without the Popes, the bishops and priest. What would be the use of a house full of golf, if there were no one to open the door for you?
Now the Popes, the bishops and priests have the key of all the treasures of heaven; it is they who open the door. They are the stewards of the Lord, the administrators of His goods. Without them, the Passion of our Lord would profit us nothing. Look at the poor heathen - of what benefit is our Lord's death tho them? Alas! they can have no share in the Redemption, so long as they have no priests to apply His blood to their souls.
No on understands this better than the devil, and his associates in this world. When they wish to destroy religion, they begin by attacking the Popes, the bishops, and priests: for where there is no priest there is no sacrifice, and where there is no sacrifice there is no religion. What should we do in the Church? the people would say; there is no Mass now, our Lord is no longer there; we may as well pray at home.
Source: The Catholic Priest, Rev. Michael Muller C.S.S.R
Posted at 12:00AM May 02, 2019 by VP in Books | Comments [0]
Wednesday May 01, 2019
Prayer to Saint Joseph for the Church

Saint Joseph, God has appointed you patron of the Catholic Church because you were the head of the Holy Family, the starting-point of the Church. You were the father, protector, guide and support of the Holy Family. For that reason you belong in a particular way to the Church, which was the purpose of the Holy Family's existence.

I believe that the Church is the family of God on earth. Its government is represented in priestly authority which consists above all in its power over the true Body of Christ, really present in the Blessed Sacrament of the Altar, thus continuing Christ's life in the Church. From this power, too, comes authority over the Mystical Body of Christ, the members of the Church -- the power to teach and govern souls, to reconcile them with God, to bless them, and to pray for them.

You have a special relationship to the priesthood because you possessed a wonderful power over our Savior Himself. Your life and office were of a priestly function and are especially connected with the Blessed Sacrament. To some extent you were the means of bringing the Redeemer to us -- as it is the priest's function to bring Him to us in the Mass -- for you reared Jesus, supported, nourished, protected and sheltered Him.

You were prefigured by the patriarch Joseph, who kept supplies of wheat for his people. But how much greater than he were you! Joseph of old gave the Egyptians mere bread for their bodies. You nourished, and with the most tender care, preserved for the Church Him who is the Bread of Heaven and who gives eternal life in Holy Communion.

God has appointed you patron of the Church because the glorious title of patriarch also falls by special right to you. The patriarchs were the heads of families of the Chosen People, and theirs was the honor to prepare for the Savior's incarnation. You belonged to this line of patriarchs, for you were one of the last descendants of the family of David and one of the nearest forebears of Christ according to the flesh. As husband of Mary, the Mother of God, and as the foster-father of the Savior, you were directly connected with Christ. Your vocation was especially concerned with the Person of Jesus; your entire activity centered about Him. You are, therefore, the closing of the Old Testament and the beginning of the New, which took its rise with the Holy Family of Nazareth. Because the New Testament surpasses the Old in every respect, you are the patriarch of patriarchs, the most venerable, exalted, and amiable of all the patriarchs.

Through Mary, the Church received Christ, and therefore the Church is indebted to her. But the Church owes her debt of gratitude and veneration to you also, for you were the chosen one who enabled Christ to enter into the world according to the laws of order and fitness. It was by you that the patriarchs and the prophets and the faithful reaped the fruit of God's promise. Alone among them all, you saw with your own eyes and possessed the Redeemer promised to the rest of men.

Saint Joseph, I thank God for your privilege of being the Patron of the Church. As a token of your own gratitude to God, obtain for me the grace to live always as a worthy member of this Church, so that through it I may save my soul. Bless the priests, the religious, and the laity of the Catholic Church, that they may ever grow in God's love and faithfulness in His service. Protect the Church from the evils of our day and from the persecution of her enemies. Through your powerful intercession may the church successfully accomplish its mission in this world -- the glory of God and the salvation of souls! Amen.
Source:Curé d'Ars Prayer Group

Posted at 12:00AM May 01, 2019 by VP in Prayers | Comments [0]
Thursday April 25, 2019
Vocation to the Priesthood
What is a vocation to the Priesthood? It is a call from Christ to come and 
follow Him and become His Priest and help Him in the priestly work of His 
Church. This work is chiefly: celebrating Mass, administering the Sacraments, 
giving the blessings of the Church, and preaching the Gospel, and thereby helping 
other people to gain Heaven. 

Christ Himself called His first twelve Apostles and Priests. Ever since that 
time, He has been calling boys and young men to the Priesthood. Christ is God. 

So this vocation to the Priesthood comes from God. It always has, and it always 
will come from God. In one way or another, He calls to the Priesthood all those 
young men whom He has chosen. Without this call, there is no vocation. 

How did Jesus call His Apostles to the Priesthood? Did He do this with, or 
without, the help of others? In most cases, He had others helping Him, or at least 
preparing for the life and work of the Priesthood those who were to be called. One 
of His helpers was Saint John the Baptist. 


The chief work of John the Baptist was to tell the people about Jesus and 
prepare them to follow Him. He was preaching at the River Jordan. Among those 
who listened to him, were some young men. John was telling them about some of 
the wonderful things which the Promised Redeemer would do. 

Then a Man, dressed like other men of his time, was seen walking by. John 
the Baptist saw this Man, and knew that He was the Promised Redeemer. He said 
to the people: "Behold the Lamb of God, who takes away the sin of the world. 

This is He of whom I spoke" (John 1, 29). 

Two young men, John and Andrew, heard these words. They went to Jesus 
to learn who He was and what He was going to do. They loved Him and became 
His Apostles. John the Baptist had prepared them for this, and led them to it. In 
like manner, Jesus chose the other Apostles. After they were prepared with the 
help of others, He said to each of them: "Come, follow Me." 

First, Jesus called the young men to be His Apostles. Then, He taught and 
trained them month after month until they were able to help Him with His work. 
Jesus is still calling to the Priesthood those whom He chooses, and training them 
with the help of others. It is true, He is seen no longer walking among men as a 
man. But He is still with them. He is with them in company with God the Holy 
Spirit. And He is with them as the Risen Savior, as the High Priest of His Church; 
He is with them personally in the Holy Eucharist. He is still calling those whom 
He chooses to be His Priests. 

God knows all things. He plans all things according to His own will. If we 
have a vocation to the Priesthood, God knew this before we came into the world. 
And He gave us the desire, talent, health, parents, and all else that we would need 
to follow our vocation. At first we may not know we have a vocation to the 
Priesthood. But at the proper time, God makes it known to us, sometimes 
suddenly, more often slowly and by degrees. 

Before Saint Paul was a Christian, he never even dreamed that he would be a 
Priest in Christ's Church. He persecuted the Church which Christ founded. In so 
doing, he believed he was pleasing God, for he thought that the Jewish religion 
was still God's one true Church. Suddenly, Jesus by a miracle struck him with 
blindness and spoke to him. At once Paul became a Christian, and then an Apostle 
and Priest. 


Some boys and young men learn of their vocation to the Priesthood 
suddenly. But most of them learn of it slowly. Day by day, it becomes clearer to 
them what God would have them do. A priest, a religious, a sermon, a book, a 
friend, or something else, inspires them with the thought that they have a vocation, 
or to be more sure of it. First, they may be in doubt; then they are almost sure; and 
then they become certain that Jesus is calling them, saying to them: "Come, and 
follow Me as a Priest." 

God has placed each of us on earth to do a special work for Him. As 
soon as we come to the use of reason, we should begin praying and studying to 
find out what that work is; then we must fit ourselves to do that work well. 

If we think Christ is calling us to be a Priest in the diocesan Priesthood 
or to the Priesthood in the religious life, we should do all we can to make 
certain of it. We should pray fervently and consider whether we have the 
necessary health and strength, and whether we can be taught and trained to 
do the work of the Priesthood well. We must see to it that we keep from 
mortal sin and spare no effort to keep from all venial sin also. We must 
resolve to become a Priest not for any earthly pleasure or profit, but solely to 
help Christ in His Church, saving people from hell, helping them to Heaven, 
and making them holier and happier. And while we thus plan to be a Priest, 
we should be living, as well as we can, the life of the Priesthood. 


 Source: Vocations, Fr. Richard Felix, O.S.B.
Posted at 12:00AM Apr 25, 2019 by VP in Books | Comments [0]
Tuesday April 23, 2019
The Duties of the Priest
Did you ever think about becoming a Priest? If so, one of your first thoughts 
was: What are the duties of a Priest? You knew that unless you found joys in the 
duties of the Priesthood, you could not be happy. And you knew that you could 
not do your best work for Christ, unless you were happy while doing it. 

You will find great joy in prayer. The life of a good Priest is a life full of 
prayer. He says now and then during the day and night the prayers which all other 
good Catholics say. In addition to these, he prays the liturgical prayers of the 
Church. Each day he celebrates Mass and says the Divine Office. While saying 
the Office, he studies in prayer the Bible for fully an hour a day. Then while 
administering the Sacraments and conducting other services, he says many other 
prayers in the name of the Church. 

Assisting at Mass fills your heart with peace and happiness. Each morning 
the Priest celebrates the Holy Sacrifice. In preparation for this sublime act of 
worship, he spends some time in prayer; and after the Holy Sacrifice, he again 
spends considerable time thanking God. Thus in prayer and Sacrifice, he spends 
another hour each day. 

Receiving the Sacrament of Penance brings peace and joy to you. Each 
week the Priest usually spends hours in the confessional. One after another, 
repenting sinners come and get God's forgiveness of their sins. Then they go away 
holy and happy, resolving never to sin again. 

Your heart is thrilled with the joy of the Sacred Heart of Jesus every time 
you receive Him in Holy Communion. The Priest brings Jesus from the altar, and 
under the form of bread, places Him on your tongue in Holy Communion; and you 
receive Him into your body and soul. For a few moments, the Risen Jesus lives in 
you as in a living temple; and then as God, He continues to remain with you. 

You delight to tell others about Jesus and to explain His Gospel to them. 
Every day the Priest is engaged in this work. He does it while speaking with 
others. He does it while instructing those who come to him and wish to become 
Catholics. He does it while preparing children and older people for receiving the 
Sacraments. And he does it while preaching or giving instructions at Mass and 
other services. 

So day after day until death, the Priest spends most of his time doing the 
work and attending to the worship of God in His Church. You, too, would be very 
happy doing God's work. 

Jesus is "a High Priest forever according to the order of Melchizedek"; pray 
for the day when by receiving the Sacrament of Holy Orders you can be made and 
marked His faithful Priest forever. 


Source: Vocations, Fr. Richard Felix, O.S.B. 

Posted at 12:00AM Apr 23, 2019 by VP in Books | Comments [0]
Sunday April 21, 2019
Day 48 - April 21 - Easter Sunday - Annual Confessions
If Easter were prolonged to Pentecost, you would not go to Confession until Pentecost, or if the latter did not come around for ten years, you would go to Confession only every ten years. Indeed, if the Church did not give you a commandment about it, you would not go to Confession until death. What do you think of that, my dear brethren? Does it not mean that you have neither regret for having offended God, Who requires you to go to Confession, nor love for God, Who requires you to make your Easter Communion? Ah you will say to me, that's all very well. We do not make our Easter duty without knowing why.

Ah! You know nothing at all about it! You do it from habit, to be able to say you have made your Easter duty, or, if you would prefer to speak the truth, you would say that you have added a new sin to your old ones. It is not, therefore, either love of God or regret for having offended Him which makes you go to Confession or make your Easter duty, or even the desire to lead a more Christian life. And here is the proof of it: if you loved God, would you consent to commit sin with such ease, and even with so much enjoyment? If you had a horror of sin, as you should have, would you be able to keep it for a whole year on your conscience? If you had a real desire to live a more Christian life, would we not see at least some little change in your way of living?

No, my dear brethren, I do not wish to talk to you today about those unfortunate people who tell only half their sins through fear of not making their Easter duty or of being refused Absolution – perhaps even for the sake of covering up their shameful lives with the veil of virtue and who, in this state, approach the altar and are going to complete their dreadful work by handing over their God to the Devil and precipitating their sacrilegious souls into Hell.
No, I dare to hope that this does not concern you, but I will continue, nevertheless, to tell you that going to Confession only once a year is not something about which you should feel any peace or satisfaction.
Posted at 12:00AM Apr 21, 2019 by VP in Poetry | Comments [0]
Saturday April 20, 2019
Day 47 - April 20 - Holy Saturday - You Have Not The Time
We can only find our happiness on earth in loving God, and we can only love Him in prayer to Him. We see that Jesus Christ, to encourage us often to have recourse to Him through prayer, promises never to refuse us anything if we pray for it as we should. But there is no need to go looking for elaborate and roundabout ways of showing you that we should pray often, for you have only to open your catechism and you will see there that the duty of every good Christian is to pray morning and evening and often during the day – that is to say, always....

Which of us, my dear brethren, could, without tears of compassion, listen to those poor Christians who dare to say that they have not time to pray? You have not the 71
time! Poor blind creatures, which is the more precious action: to strive to please God and to save your soul, or to go out to feed your animals in the stable or to call your children or your servants in order to send them out to till the earth or to tidy up the stable? Dear God! How blind man is!.... You have not the time! But tell me, ungrateful creatures, if God had called you to die that night, would you have exerted yourselves? If He had sent you three or four months of illness, would you have exerted yourselves? Go away, you miserable creatures; you deserve to have God abandon you in your blindness and leave you thus to perish. We find that it is too much to give Him a few minutes to thank Him for the graces which He is giving us at every instant!.... You must get on with your work, you say.

That, my dear people, is where you are greatly mistaken. You have no other work to do except to please God and to save your souls. All the rest is not your work. If you do not do it, others will, but if you lose your soul, who will save it?
Posted at 12:00AM Apr 20, 2019 by VP in Poetry | Comments [0]
Friday April 19, 2019
Day 46 - April 19 - Good Friday: Model Your Death Upon That of Jesus Christ
If we were required to die twice, we could jettison one death. But man dies once only, and upon his death depends his eternity. Where the tree falls, there shall it lie. If, at the hour of his death, someone is living in some bad habit, his poor soul will fall on the side of Hell. If, on the other hand, he is in the state of grace, it will take the road for heaven. Oh, happy road!....

Generally speaking, one dies as one has lived. That is one of the great truths which Holy Scripture and the Fathers repeat in many different places. If you live as good Christians, you will be sure to die as good Christians, but if you live badly, you will be sure to die a bad death. The prophet Isaias warns us that the impious man who thinks only of doing evil is in a woeful state, for he will be treated as he deserves. At death he will receive the reward for the work he has done. It is true, however, that sometimes, by a kind of miracle, one may begin badly and finish well, but that happens so rarely that, as St. Jerome puts it, death is generally the echo of life. You think that you will return then to God? No, you will perish in sin....

The Holy Ghost tells us that if we have a friend, we should do him some good before we die. Well, my dear brethren, could one have a better friend than one's soul? Let us do all the good for it that we can, for at the moment when we would like to do our souls good, we shall be able to do no more!.... Life is short. If you defer changing your ways until the hour of your death, you are blind, for you do not know either the time or the place where you will die, perhaps without any assistance. Who knows if you will not go this night, covered in your sins, before the tribunal of Jesus Christ?.... Yes, my dear brethren, as life is, so is death. Do not hope for a miracle, which God but rarely performs. You are living in sin; very well, you will die in sin....

If we desire to die a good death, we must lead a Christian life. And the way for us to prepare for a good death is to model our deaths upon the death of Jesus Christ. Can the life of the good Christian be anything other than that of a man nailed to the Cross with Jesus Christ?
Posted at 12:00AM Apr 19, 2019 by VP in Books | Comments [0]
Thursday April 18, 2019
Day 45 - April 18 - Holy Thursday- It is Necessary to be Converted

No, my dear brethren, let us never forget that in order to receive Holy Communion it is necessary to be converted and strong in a true resolution to persevere. When Jesus Christ desired to give His Adorable Body and His Precious Blood to His Apostles, in order to teach them how pure one should be before receiving It, He even went so far as to wash their feet. By that He wishes to show us that we can never be purified enough of our sins, even our venial sins. It is true that the venial sin does not make our Communions unworthy, but it is a cause of our profiting hardly at all by such a great blessing and happiness. The proof of that is very clear when you consider how many times we have received Holy Communion during the course of our lives. And have we become any better?.... No, not at all, and the real cause of that is that practically all the time we are holding onto our bad habits; we do not break ourselves of any one of them more than another. We have a horror of the big sins which kill our souls, but all those little fits of impatience, those grumblings when some worries or troubles befall us, or some disappointments or setbacks – these mean nothing to us. You will admit that in spite of so many Confessions and Holy Communions, you are always the same, that your Confessions are nothing else, nor have they been for years, than a repetition of the same sins, which, although venial, are none the less damaging to the merit of your Holy Communions.

You have been heard to say, with good reason, that you are no better one day than another, but who is stopping you from correcting your faults?.... If you are always the same, it is simply because you do not want to make even small efforts to improve yourself. You do not want to endure anything or to be opposed in anything. You would like everyone to be fond of you and to have a good opinion of you, which is a difficult enough thing.

Let us try hard, my dear brethren, to destroy all that could be in the smallest way displeasing to Jesus Christ, and we shall see how our Communions will help us to make great strides towards Heaven. And the more we do this, the more we shall feel ourselves becoming detached from sin and inclining towards God.... This is what I desire for you.
Posted at 12:00AM Apr 18, 2019 by VP in Books | Comments [0]
Day 44 - April 18 - Prisoners of Sin
If we understood fully what it is to receive the sacraments, we should bring to the reception of them very much better sentiments than those we do. It is true that the greater number of people, in hiding their sins, always keep at the back of their minds the thought of acknowledging them. Without a miracle, they will not be any the less lost for that.

If you want the reason, it is very easy to give it to you. The more we remain in that terrible state which makes Heaven and earth tremble, the more the Devil takes control of us, the more the grace of God diminishes in us, the more our fear increases, the more our sacrileges multiply, and the more we fall away.

The result is that we put ourselves almost beyond the possibility of returning into favor with God. I will give you a hundred examples of this against one to the contrary. Tell me, my dear brethren, can you even hope that after passing perhaps five or six years in sacrilege, during which you outraged God more than did all the Jews together, you would dare to believe that God is going to give you all the graces which you will need to emerge from this terrible state? You think that notwithstanding the many crimes against Jesus Christ of which you have been guilty, you have only to say: "I am going to give up sin now and all will be over."
Alas, my friends! Who has guaranteed to you that Jesus Christ will not have made to you the same threat He made to the Jews and pronounce the same sentence which He pronounced against them?.... You did not wish to profit by the graces which I wanted to give you; but I will leave you alone, and you will seek Me and you will not find Me, and you will die in your sin!.... Alas, my dear brethren, our poor souls, once they are in the Devil's hands, will not escape from these as easily as we would like to believe.... Look, my dear brethren, at what the Devil does to mislead us.

When we are committing sin, he represents it to us as a mere trifle. He makes us think that there are a great many others who do much worse than we do. Or again, that as we will be confessing the sin, it will be as easy to say four times as twice. But once the sin has been committed, he acts in exactly the opposite way. He represents the sin to us as a monstrous thing. He fills us with such a horror of it that we no longer have the courage to confess it. If we are too frightened to keep the sin hidden, he tells us, to reassure us, that we will confess it at our very next Confession. Subsequently, he tells us that we will not have the courage to do that now, that it would be better to wait for another time to confess it. Take care, my dear brethren; it is only the first step which costs the effort. Once in the prison of the sin, it is very difficult, indeed, to break out of it....

But, you are thinking, I do not really believe that there are many who would be capable of hiding their sins because they would be too much troubled by them. Ah, my dear brethren, if I had to affirm on oath whether there were or were not such people, I would not hesitate to say that there are at least five or six listening to me who are consumed by remorse for their sins and who know that what I say is true. But have patience; you will see them on the day of judgment, and you will recall what I have said to you today. Oh, my God, how shame and fear can hold a Christian soul prisoner in such a terrifying state! Ah, my dear brethren, what are you preparing for yourselves?

You do not dare to make a clean breast of it to your pastor? But is he the only one in the world? Would you not find priests who would have the charity to receive you? Do you think that you would be given too severe a penance? Ah, my children, do not let that stop you! You would be helped; the greater part of it all would be done for you. They would pray for you; they would weep for your sins in order to draw down with greater abundance the mercies of God on you! My friends, have pity on that poor soul which cost Jesus Christ so dearly!.... Oh, my God, who will ever understand the blindness of these poor sinners! You have hidden your sin, my child, but it must be known one day, and then in the eyes of the whole universe, while by one word you would have hidden it forever and you would have changed your hell for an eternity of happiness. Alas, that a sacrilege can lead these poor sinners so far. They do not want to die in that state, but they have not the strength to leave it. My God, torment them so greatly that they will not be able to stay there!
Posted at 12:00AM Apr 18, 2019 by VP in Books | Comments [0]
Wednesday April 17, 2019
Day 43 - April 17 - We Are Nothing In Ourselves
Temptation is necessary to us to make us realize that we are nothing in ourselves. St. Augustine tells us that we should thank God as much for the sins from which He has preserved us as for those which He has had the charity to forgive us. If we have the misfortune to fall so often into the snares of the Devil, we set ourselves up again too much on the strength of our own resolutions and promises and too little upon the strength of God. This is very true.

When we do nothing to be ashamed of, when everything is going along according to our wishes, we dare to believe that nothing could make us fall. We forget our own nothingness and our utter weakness. We make the most delightful protestations that we are ready to die rather than to allow ourselves to be conquered. We see a splendid example of this in St. Peter, who told our Lord that although all others might be scandalized in Him, yet he would never deny Him.

Alas! To show him how man, left to himself, is nothing at all, God made use, not of kings or princes or weapons, but simply of the voice of a maidservant, who even appeared to speak to him in a very indifferent sort of way. A moment ago, he was ready to die for Him, and now Peter protests that he does not even know Him, that he does not know about whom they are speaking. To assure them even more vehemently that he does not know Him, he swears an oath about it. Dear Lord, what we are capable of when we are left to ourselves! There are some who, in their own words, are envious of the saints who did great penances. They believe that they could do as well. When we read the lives of some of the martyrs, we would, we think, be ready to suffer all that they suffered for God; the moment is short-lived,we say, for an eternity of reward. But what does God do to teach us to know ourselves or, rather, to know that we are nothing? This is all He does: He allows the Devil to come a little closer to us. Look at this Christian who a moment ago was quite envious of the hermit who lived solely on roots and herbs and who made the stern resolution to treat his body as harshly. Alas! A slight headache, a prick of a pin, makes him, as big and strong is he is, sorry for himself. He is very upset. He cries with pain. A moment ago he would have been willing to do all the penances of the anchorites – and the merest trifle makes him despair! Look at this other one, who seems to want to give his whole life for God, whose ardor all the torments there are cannot damp. A tiny bit of scandal-mongering.... a word of calumny.... even a slightly cold reception or a small injustice done to him.... a kindness returned by ingratitude.... immediately gives birth in him to feelings of hatred, of revenge, of dislike, to the point, often, of his never wishing to see his neighbor again or at least of treating him coldly with an air which shows very plainly what is going on in his heart. And how many times is this his waking thought, just as it was the thought that almost prevented him from sleeping? Alas, my dear brethren, we are poor stuff, and we should count very little upon our good resolutions!
Posted at 12:00AM Apr 17, 2019 by VP in Poetry | Comments [0]